Anyway, I can see a lot of similarities between the path that the strength competitions are taking here in the US and the same road that pro wrestling took about 15 years ago. It reminds me of the old WWF which was basically only a regional promotion in the northeastern part of the States. Then Vince McMahon, Jr. took over and all hell broke loose. It was good for wrestling at that time and was an almost overnight success. The popularity of the promotion spread like wild fire over the United States and dominated national television. McMahon had great vision and seized his opportunity and today this once regional promotion is still going strong although the Atlanta based WCW has an edge over the WWF right now.

Can Manfred Hoeberl be the Vince McMahon of the strongman competitions? He seems to possess the vision needed to popularize the competitions across the globe. Already there are rumors going around that would indeed paint him in that role pitted against the IFSA. And just like in wrestling we may have a power struggle with two promotions each trying to survive alone. Only time will tell. Even so the WSM competition's popularity has already grown by leaps and bounds. Whereas before it was unheard of people now talk about it …..er poke fun at it which is at least something more than there ever was in the past. So I think that there is room for both but it might stretch the talent pool too far. Still I am glad that some people are finally putting together something for strength sports even though it's promoted mainly in Europe hopefully soon this will start to change.

Now I know there are some folks out there who cringe at the thought of the strongman competitions even being compared to pro wrestling and would rather not see it follow in it's footsteps because they think of it as "fake sport" well I've got news for them: the WSM competition is already thought of as a "freak oddity sport" so get over it.

Sami had this to say "At least Svend and I would not want to see the WSM change into even a bit of pre-arranged sport, or back into the circus-like atmosphere that it once was." Okay but just realize that pro-wrestling is great entertainment here even if you don't like it. Of course I think such things like a certain annual "Snowman" competition is just as ridiculous and really a parody of an actual strongman contest.

Sami further commented "This Snowman competition takes place in Finland and is organized by Markku Suonenvirta and Ilkka Nummisto. The competition has had for example the following events: digging through a wall of snow with a shovel, riding down a snowy hill with a mountain bike, dragging a sledge in deep snow, boiling water with common tools and rope pull over a hole in ice. Last year the participants included Marko Varalahti and Harold "Iron Bear" Collins. This competition is not to be taken too seriously." Neither is pro wrestling and by the way, pro wrestling isn't just an "American" thing as it is immensely popular in Canada, Mexico, and Japan too.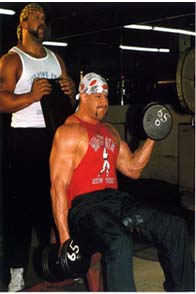 It will be interesting to see if any other strongman will attempt to make it in the squared circle or vice versa. Too bad The Road Warriors never competed in a strongman competition. Road Warrior Hawk would have given Jon-Pall Sigmarsson a good run for the money and provided some great interviews too.
Note: Thanks to Mike for help in nailing down the time frame.