Jouko after WSM98
[26.10.98, Sami]

---
Jouko: What do you mean with "competitors use 3x200kg weights in the Power Stairs"?? Where are the 220kg and 240kg weights I saw here yesterday?
Reeves: Well, we thought they were too heavy and someone might get injured.
Jouko: Who "we"??
(This conversation never took place in exactly this form but close enough. "We" don't want to specify "we" here ;-)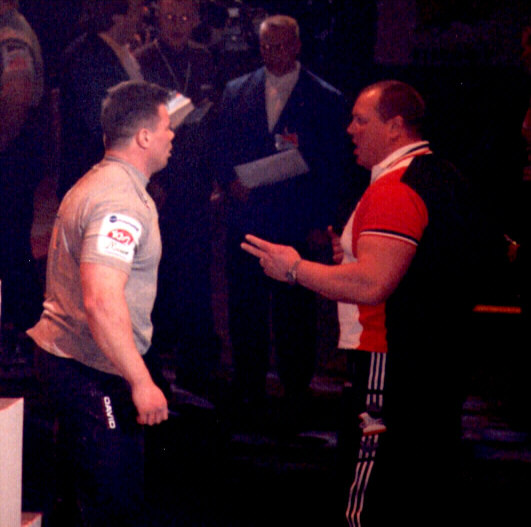 Otherwise, Jouko wants to thank Reeves for the events being well organized and for the competition running so smoothly. It was not Jamie's fault that the food was inedible. The hotel also wasn't that bad for the finalists. Jouko was able to get plenty of salt crackers, which kept him going for 14 days. I hear he even found yogurt and chicken sometimes.

I congratulated Jouko at first – naturally he answered that there's nothing to.
But it didn't affect too badly your marketing value?
Oh, it did that. One sponsor signed off
"But I'm glad I wasn't beaten by a Finn."

Last year Nummisto informed STT daily (Finnish news agency), this year we didn't get to hear much until a week later (30 seconds on TV. Naturally couldn't get that on tape … and those other tapes are still waiting for a proper video grabber card to show up). Nummisto worried more about how Virtanen was going to do. And this year of course the winner came from a neighbor country, so newspapers didn't bother reporting? Oh well.

TWI & publishing results: Jouko agreed that this type of secrecy is not common in other sports, but reminded me that a competitor can't do much here. Might not even get invited next year if…

Actually Jouko didn't sound to be too upset about the competition. Not happy, but he didn't blame anybody, even the organizers, or didn't want to explain much why he came second. I tried to pull it out anyway… he isn't a bad character really, but I am!
So, how much did "Big" Glenn Ross weigh?
181kg, but Olafsson weighed even more, about 190!
Olafsson… won this Truck Pull, so how was it done?
With a rope and a harness, like last year. He did great and I was also happy with my performance
Log lift: Jouko lifted 150kg and didn't even need his last lift. Samuelsson got 137,5kg? But the top log lifters weren't even there. Flemming might push up 180 and there are others. Jouko already lifted 165 with the same log in Scotland. At home he has done 8x136kg. This was an event, which could have helped him to turn the competition around - but there were only 5 competitors left and Samuelsson placed 4th.

Husafel Stone: You know enough already, don't you? Magnus used magnesium (when he saw what happened?)

Even if there had been all the best competitors, Jouko agreed that Magnus might still have won with those events, who knows. He didn't have a solution either to how to choose the events better. Suggestions anyone?

Well, he had told to the organizers last day: "So what if we had a one day more – squat and deadlift maybe?"

But later during the same phone call: "this is not a powerlifting competition". Go figure ;-)

"Maybe they wanted someone who looks more like a strongman to win this year". Magnus is 195cm tall, weighs 143kg. "I guess it didn't look good when a 120kg guy won. But I did show something in Helsinki GP then."

Now he has more hunger – and time – to train for the next year. Let's see if his sponsors, Scania and Kala (?) for example would be satisfied with less shows in the future (was more than 30+competitions).
That must be too many?
Yes, definitely
So you wasn't serious all the time?
No, I did always my best. But that's because I also trained that way – doing shows…
Farmer's walk weights: (This is for Jarkko) Boy did he sound a lot happier when I mentioned using 150kg instead. He added: And 450kg to car walk, reps with 130kg logs (and so on, didn't get it all).

Hmm, forgot to ask if it was really true that Virtanen had won Jouko in farmer's walk with 120kg and 60m (while they trained together). Maybe, but where did they find that small… hehe, last Friday I heard that there really have been 150kg cases in small Finnish competitions. Just that all the competitors weren't able to move them ;-)

Miscellaneous:

Jouko's next competition will be The Strongest Man Alive Contest. He likes the idea and really wants to go. I should ask comments 13th day.

I asked about strongman training and … well it went like 4 events / day, then 2,3,1 or something. Usually the week is about the same. Maybe more later, if he wants to tell.

About Finland being such a small country (well, it's not that small on the map and has 5,2 million people, but it's something we use to say here – I hear that everyone in Europe doesn't understand this "small and poor country" talk … they all seem to come from very important nations) and about future strength superstars – will there be any? Jouko knows many talented competitors from Finland, but wants to remind them that one needs to give everything for the sport to succeed. He is not so sure if they are willing to do that.

Records in crucifix (for Jari...): 12.5kg 1min 19, and you remember what he did in Helsinki with 17,5kg

Oh, and when he did his (compulsory) military service 1990, his kneejoint got in such a bad shape that he didn't have to do much while there. After that he just ate and tried to work out at gym… To my big surprise he had weighed only 88kg when he entered. Even if all of it muscle… but when he got out, it was 96kg, thanks to living in the same city where he served, and to his family and especially his brother who carried food (daily?!). Damn, it was exactly vice versa for me, they plan the meals for 80kg "soldiers". I think it's funny he wasn't even a "sports trainee" there.
---