WSM 1999 - Three days after

Christine in a mail to Michael, our photographer:

We always welcome photos and any articles because afterall the Powerbuilding site is by fans for the fans. And I must say for Sami & myself how much we do truly appreciate this because obviously we cannot afford to fly around the world and cover these contests ourselves although we'd like to!

Thanks,
Chris

Jouko

---
was killing stress doing kitchen renovation. It's good to get your mind off strongman competitions for a while. After all it was a very difficult competition mentally to prepare for: all the big expectations, planning everything etc. He sounded a bit tired. Oh, didn't ask if he had just celebrated for days... probably that too.

We changed some calm thoughts about the competition, like (and these aren't all purely his opinions)
Everything went smoothly, pretty much how he planned to do things, and it was a great performance in all, but he only won one event and Svend gave him tough time during the first two days of the final. But he said he liked the competition to be tough.
Svend was very good, but when there's not enough routine (not a single competition this year for Svend) you easily end up making mistakes, like Svend did in stones - gotting the last stone up would've meant 5 extra points and a second place at least. Svend is back now, kept very low profile for 6 months. He might not be totally happy with the result, but a good and whole competition anyway from him, very important for his career.
Jouko's performance in plane pull was simply amazing (in my opinion, maybe his too). He said he had been training it a lot, no, a LOT, with fire trucks of Turenki fire station. Big thanks to them btw. It worked out well, even though he and Janne (both being relatively light, Janne only 6kg heavier during the competition) had to drag about 20kg extra with their hands compared to the heaviest competitors. I thought Svend would've done better in this event, but Jouko wasn't waiting him to win at least.
Two weeks from now starts the World Team Championships. He's taking the trip with Janne, ... who I said had even some luck in Malta. Jouko added: "and a good trainer..." They had trained everything with a paper and a clock.
Janne gave the other countries a 1% chance to beat them. Haha, let's see you two do weight for height, or have you now started to train for it? Didn't ask, should've!
When I told Jouko I also heard from Whit Baskin's mom during the qualifying phase, he said that Whit was actually very good, just tried too much in the Medley and got overly exhausted. There was also some other event he did a mistake in.
Minkfitz - as I didn't know anything about him - Jouko told he was at least very strong and had been in Rasmussen's shadow.
Badenhorst, he had trained too hard just under the competition and was in serious overform, also the events didn't favor him
Arm over arm boat pull, Janne and Jouko had trained it uphill somewhat differently, and ... the boat there was sooo light and came so fast he had to rethink his technique several times, ended doing too much with legs and lost it. Samuelsson has much arm power which shows in this event
Log press, Hugo got 17 reps with 121kg (measured weight on chest), Samuelsson 15, Jouko 14, Svend 8. Slightly surprising I'd say. Well, Jouko said he did what he needed to (after 12 he counted he had won the whole comp), could've done one more maybe but it would've looked much like incline press then. About Svend later...
Competition beard, his caretaker had asked not to shave it... "looked horrible"
He won't take part in Helsinki GP next year, the reason isn't public
Deadlift setup was somehow very difficult. At least gripping the bar. The lift was from the same level than in powerlifting, or maybe 1-2cm higher because the holes in the stone plates were bigger. Doesn't mean anything. He was very unhappy with his deadlift performance - even being that there was already one event and four days of qualifying, stomach pains etc, he had been expecting to pull a lot more, lot easier. This gave him much to think - had Badenhorst made the finals, Gerrit would've won the deadlift that day, which is not acceptable ;-) Except for maybe that Jouko doubts if Gerrit's grip had held either. It was a bit more difficult than just 380 in a bar at gym.
Jouko: People will think (at least in Finland) that the level of the competition and competitors can't be too high when Finns are the top two. Can't help it as this is a country with 5,1 million people. ... ... I have watched our Olympic level track & field athletes train, our popular ice hockey players, and believe me (well YOU do), in most cases there isn't even comparison with them and Jouko.
Please, I'd like to hear (FROM YOU), in US, which of the following athletes has most publicity / is known best: Jouko, Mika Häkkinen (Formula 1), Teemu Selänne (Ice hockey), Saku Koivu (Ice Hockey), Mika Myllylä (Crosscountry skiing)? Mail me if you can tell
Pfister had just called Jouko (Phil just won STRONGMAN II contest put up by Jim Davis for the Children's Miracle Network), also to tell him that Sami Heinonen didn't perform too well there (5th). Maybe he isn't that good after all, or the US guys are improving fast.
Whit Baskin placed 2nd there!
Jari Veijola, under 100kg Finnish strongman champ this year (I know nothing about him), placed 2nd after Willie Wessels (who's a "decent" powerlifter also) in the "lightweights".
TWI should invite every competitor willing to participate (from AFSA also). Rasmussen would have been a good challenger.
Still one thing: I just received a mail from Robert, Sweden, and he said: "I know that you wrote something about the events not favouring Ahola. I think they did. No husafel stone, no car roll, no weight for height and so on.. events that I know Magnus would have loved." Actually I don't think husafel stone is a bad event for Jouko, he won that in qualifying this year when two groups did it, car roll he is usually very very good at. Probably he has trained even weight for height now. The finals just didn't have much hold or grip events, nor some others. That's why I think it was so impressive from him.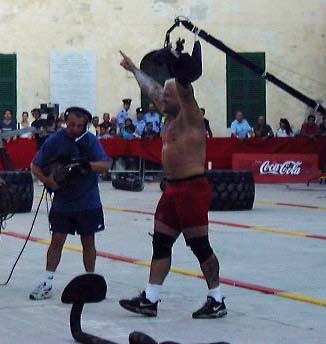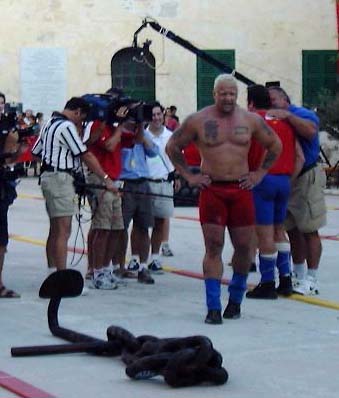 Christine:
Best chest honors would have to go to the Viking Man! and probably also best tattooes! [There is the one photo of him in this batch that gives a pretty good view, but don't tell him any of this lest we inflate his ego that much more, hahaha;P]
Svend

---
sailed back to the shore after six months and got to hear there's soon going to be one small viking more. He must now start building a boat for three, a real family model. Congrats!

Also great stuff in Malta, Svend! You really scared us all here in Finland.
Svend trained the last six months in secret, didn't want anybody to know how he was preparing for Malta. He has his own place, trains events 3 hours per day (or how was it?), only half an hour weights four times a week. Now that he is about in his best shape ever, he starts competing again, doing shows and training even harder!
Svend had for example deadlifted 412,5kg in gym before Malta. With straps - he even told he hadn't deadlifted without those for years, before WSM. He was happy with his result however, 375kg, for he had very much trouble during the qualifying phase (barely even got to the finals), lost 6kg due to stomach pains and that felt in pressing power at least. With the stones and log press he said he felt a bit weak. Super Yoke the same day also taxed some from his deadlift. Svend was happy it wasn't a "Silver dollar" lift which begins higher. He would not be able to lift much more than in normal deadlift.
Veneberg pulled 370.
We believe the athletes finally learned to take much food with them, if they travel that far. It's simply the different bacteria, nothing much to do with hygiene.
The Yoke - one of his best events, even said to have taken it carefully, just to win.
After two days when I thought he might even win, he said that he thought so also. But he wasn't too disappointed, this competition went good anyway (in the toilet) and will give him much publicity. And he believes it will be great to watch, and we'll be seeing some dancing from him at least... after he won the Medley I believe
Lacks routine, of course. Hasn't competed "since last year".
Samuelsson had some excuses, but he might have finished fourth had he continued all the way. He didn't use everything he had in Medley which cost Svend the second place for example.
Sleeps 12 hours per day, "spends most of his life in bed"!
He certainly doesn't lack any training motivation now
Virtanen he didn't get to speak much with because Janne's English isn't that good. (Btw, have you heard Kiri lately? He's trying! Not more like if someone would want to speak with him, he should learn to speak Finnish first. How come he should learn English?)
Inviting guys from AFSA would've been important for the fans
The WSM has taken a big step forwards, much heavier weights than before.
If you want to wake up Svend and get him to your competition or show, just call
+47-92200821

Err... don't WAKE him up though! Norway is GMT+1