Magnus Samuelsson - Vegas, '97

Malta '99

Boat Pull - Wied iz-Zurrieq, 14.00
1. Magnus Samuelsson
2. Hugo Girard
3. Janne Virtanen
4. Svend Karlsen
5. Jouko Ahola

Full Standings
Karlsen, 26
Ahola, 25
Samuelsson and Virtanen tied at 22
Girard, 19 ½
Veneberg, 18
Olafsson, 14
Barr, 9 ½
Fekete, 6
Minkwitz, 1 (withdrawn)
Samuelsson, as also Ironmind improved greatly from yesterday. We got to know that "Minkwitz was injured in the first couple meters of the super yoke yesterday, and was unable to continue. Samuelsson was reported to have aggravated his back in yesterday's deadlift, but his determination, coupled with the expert medical assistance he received, seem to have made that a non-issue as he won today's event."

Magnus would want you to know that the show isn't over yet!

I also liked very much what Philip Pfister (4th in WSM '98) wrote on Diesel Power Forum, currently the best forum for strong men: "Svend is a very funny guy with a great sense of humor, always clowning around ---- a great strongman too but I sure hope my little finnish friend the giant killer wins this one!!"

Will be very close I'd say. The remaining events are what Svend does the best. Except for maybe Atlas Stones.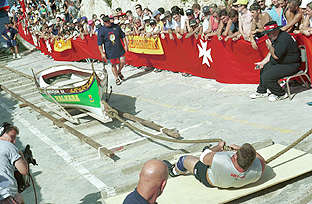 Today the guys pulled a boat uphill on dry land (some buy a winch for that, these guys save the money for a good meal afterwards). Samuelsson has aggressive technique which seems to work best in fast pulls, Jouko's technique, with straight back and all, suits better for heavier pulls. He hasn't improved in this one as he should have. Arm over arm isn't just about how tall you are, it's about good coordination and being able to adapt technique when the load starts moving faster and faster. See Ziljstra on video.
Jouko said there's nothing to explain - today four guys were better than him. "I'm not happy with my fifth place but not too disappointed either. I put everything I got on line. Also there are still events and days left."
Friday might be decisive for the competition: Atlas Stones which Jouko must win, then pulling a 80 ton airplane with harness and rope. "In the plane pull the big guys always start strong, but if everything goes well, guys my size improve in the end. The distance to pull is 30 meters and that's a real task", described Jouko.
The fact is, when pulling in a 45deg angle for example, you get tan(45)*bw=1 time your bodyweight pulling forwards, which equals to doing one chin-up. If Ahola has to do chins with 30kg extra to even keep up pace, I'm sorry to inform it will hurt him in the end also. Olafsson doesn't even need much strength, just a 70 deg angle. Still, I can't say I have nothing against this event. It's simply about who pulls it and who doesn't. There are events favoring lighter guys also.
... I just got a mail from Christine, and she reminded me that her favorites are almost all with Manfred's group now. World's Strongest Man has suddenly become just one competition among others, but the organizers had it coming. However, WSM is still a great show as the guys try to be at their best there.
Finally, let us welcome Australia's Strongest Man to join us in the web!