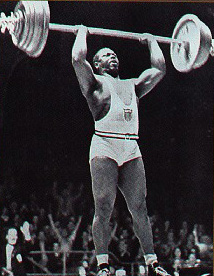 Gold Medal Olympian
Born: 1921
---
Mr. John Davis won gold medals in the heavyweight division at the 1948 and 1952 Olympic Games, and is one of only 12 weightlifters to have won two Olympic championships. From 1938 to 1953, Davis broke 19 world records, won 12 national titles and a Pan American Games gold medal. He was also the subject of the first Olympic-related film made by legendary filmmaker Bud Greenspan. The film, made in 1952, was entitled "The Strongest Man in the World."





John Davis Career Highlights



1938 World Champion in Weightlifting at age 17

1948 Gold Medallist at the Olympic games with
2 Arm Press: 137.5 kg
2 Arm Snatch: 137.5 kg
2 Arm Clean and Jerk: 177.5 kg
Total: 452.5 kg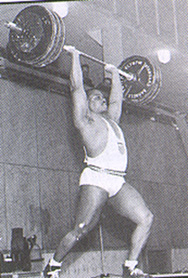 1952 Gold Medallist at the Olympic Games
2 Arm Press: 150 kg
2 Arm Snatch: 145 kg
2 Arm Clean and Jerk: 165 kg
Total: 460 kg



---

Mr. John Davis

By Clarence Bass
---
Ever heard of John Davis? Probably not, unless you were on the scene in the '40s & '50s. Davis was called the "Strongest Man In The World" when he won the Olympic heavyweight weightlifting gold medal at the 1948 and 1952 Games. He won his first world championship in 1938, at 17, and went undefeated in 15 years of national, international and Olympic competition.
I discovered John Davis in the mid-50s when his glory days were ending, and I was just beginning my love affair with the barbell. I only saw Davis lift once, his last appearance on the lifting platform at the 1956 Olympic trials. It was not a happy time for the mighty one. I'll never forget it. He tore a ligament in his knee attempting to clean close to 400 pounds and had to be carried off the stage on a stretcher.
His knee popped and he collapsed on the floor in a heap. It was an unpleasant ending to a lifting career that will probably never be equaled.
What brings back these memories is a 1986 article by famed Olympic Games documentary maker Bud Greenspan reprinted in the April 1997 issue of the newsletter of the Association of Oldetime Barbell & Strongmen. Greenspan, writing in Sports Illustrated, tells of his first meeting with Davis, as a 21-year-old New York City radio station sports director, and how Davis became the subject of his first film.
It was called "The Strongest Man in the World." They became friends, and Greenspan tells of his many subsequent contacts with John Davis and how, like me, he was saddened by the final photo of a pajama-clad Davis in an Albuquerque nursing home dying of cancer. It's a wonderful story - including photos of Davis becoming only the third man to lift the Appollon Railway Wheels - about the career of one of America's greatest athletes.


---
If anyone has any contact information about Mr. Davis's estate please email ASL here.
---