---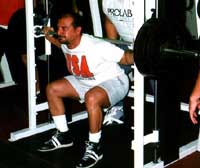 Date of Birth: December 16th, 1961
Height: five foot eleven inches
Body weight: 220 to 240 pounds
Thigh circumference: 28 inches
Arms: 18 inches
Chest: 48 inches
Waist: 35 inches

Mark Keshishian is probably one of the gutsiest lifters in the game. Though he doesn't have an IPF World Championship, he has something better-a fierce will and a strong heart. These two things are hard to come by. He always notes that his best total in powerlifting is not what he wished it was, but to see him lift stones amd one arm dumbell clean is amazing. Plus, he is a really superior coach and training partner to Gary Mitchell. Together at the Full Strength Challenge in September, they are going to be forces to reckon with. Mark has an impressive powerlifting resume which include the titles of 1993 IPF Pan American Champion and 1996 IPA Senior Champion in the submaster division. At both of these meets, he was awarded the best lifter title. Mark has now retired from powerlifting and focuses on strongman competitions instead. In his front yard, you can find the following: two McGlashen stones, a metallic log, acetylene torch canisters used to practice the farmer's walk, tires for throwing and with plans to make a super yoke, a truck pull harness and a hand over hand truck pull apparatus, it's a strongman's DisneyLand.



---
Best Lifts
in competition:
Squat: 685 pounds
Bench: 451 pounds
Deadlift: 606 pounds in competition

in the gym:
Squat: a double at 685 pounds
Bench: 450 pounds
Deadlift: 735 pounds

raw (i.e. no equipment):
Squat: 465 pounds for 11 reps & 575 LBS for 7 reps
Bench: 415 pounds for 6 reps and 325 pounds for fifteen reps
Deadlift: 535 pounds for 2 sets of 10, and 655 for 2 reps

He did 655 pounds for 4 reps with only a belt on in partial deadlifts out of the racks 18 inches up to simulate the silver dollar deadlift.



---