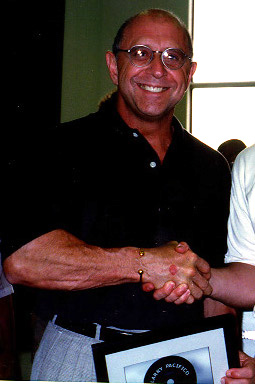 Sunday, June 28th, 1998

The third inductee



Jan Dillinger of York Barbell: Now I want to talk about a nine time world champion: Mr. Powerlifting. Of course, I am speaking about Larry Pacifico. Many, many people consider him Mr. Powerlifting, the consummate powerlifter. Larry has nine consecutive world powerlifting titles to his credit. (Kaz was the only one who clapped loudly). The list of his accomplishments and world championships and abilities go on and on. So, I'll just bring him up here now. Come on Larry.

(The crowd cheered and applauded while he accepted the award)



Click on the above thumbnail images to enlarge them. The first image is &copy York Barbell and the other image is &copy McShane Enterprises. No duplication is permitted.



Larry Pacifico: Thank you very much. It's really nice to be remembered for things that we did a long time ago. Thanks very much Vince for that acknowledgment from when you were in elementary school. (The audience laughed) I think he is older than I am really, but again it's so nice to be remembered. Those were some great years. We enjoyed everything that we did. We traveled the world. We got to meet a lot of special people. We met a lot of special people today. I'm glad my son Jimmy, say hi, came out today to see his dad. I want to thank you again and thinking again about some of the things that have happened to powerlifting today. It's really special to think about the good old days when there was one powerlifting federation. Now, there's so many and it's hard to distinguish who is a champion and who isn't, but these people here with me today and are coming inside with me to the Hall of Fame mean something special and bring back a lot of good memories. I want to thank Paul (President of York Barbell) for bringing York back and we're going to help you bring it back all the way. Jan thank you sir. I want to thank Mark Challiet and his wife for helping organize this with York Barbell company and thanks again and thanks for coming up and saying hi.

The audience cheered and gave and standing ovation to Mr. Powerlifting.